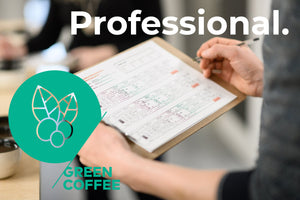 SCA Green Coffee Professional
The Green Coffee Professional course builds on the concepts and skills introduced in the Green Coffee Intermediate course and prepares the learner for managerial job functions found in the green coffee profession. This interactive course covers key aspects of coffee botany, impact of climate change, farm management, processing methodologies, common sensory defects, sample analysis, futures markets as they relate to green trade, portfolio management, factors in the costs of green coffee production, contract considerations, targeted purchasing plans, supplier assessments and third-party accreditations.
A written exam tests professional course knowledge while a practical exam assesses the learner's ability to identify certain sensorial defects, conduct sampling processes for consistency, create standards for a client, analyse samples and make purchasing decisions.
Participation on this course requires that the following modules have been completed at least three months prior:
Green Coffee Intermediate
The following courses are also recommended:
Sensory Skills Intermediate
Roasting Intermediate
It is recommended that you have been working in the industry for a minimum of twelve months in a job with exposure to green coffee before taking this course.
For further information or advice send a message to: learn@plotroasting.com
Points towards CSP diploma: 25
Course length: 3 days, 9:00-17:00
Class size: 4
Price includes VAT and all SCA fees.