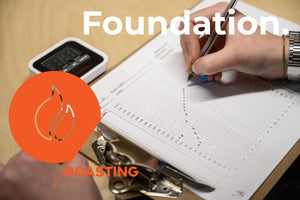 SCA Roasting Foundation
The Roasting Foundation course gives the learner an understanding of the roasting process, including the physical changes that take place during the process, and how to control sensory aspects of the coffee by roasting light or dark. Learners will also gain an understanding of the basic structure of the roasting machine, and general maintenance and fire prevention.
Practical learning objectives and activities prepare the learner to follow instructions, given by the trainer, for three different roasts and record relevant data and observations per roast using a suitable roast log. A written exam tests theoretical knowledge based on Foundation course learning objectives.
Participation on this course does not require any prior modules being completed but the following courses are recommended:
For further information or advice send a message to: learn@plotroasting.com
Points towards CSP diploma: 5
Course length: 1 day, 9:00 - 16.00
Class size: 4
Price includes VAT and all SCA fees.