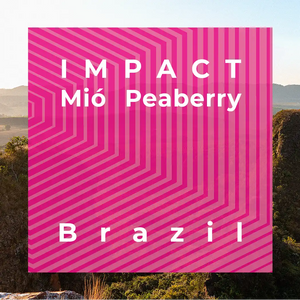 IMPACT Subscription
IMPACT - A rich, delicious espresso for everyday drinking. This 100% peaberry lot from our friends at Fazenda Mió is crazy good through milk or as a standalone espresso. We get loads of dark chocolate, rich peanut butter and brown sugar sweetness. We hope you like it as much as we do!
CULTIVAR: Yellow Catucaí, Mundo Novo & Yellow Bourbon
PREPARATION: Natural
LOCATION: Monte Santo de Minas, Minas Gerais, Brazil
ALTITUDE: 900 - 1,100 masl
We are really excited to have this unusual and most importantly delicious lot as our house espresso. A peaberry is a fairly common natural mutation where only a single seed is grown inside the coffee cherry. Due to their unique shape and size these seeds roast slightly differently from regular coffee and can be highly sought after from some origins as they are often very dense and packed with flavour. Mió processes the cherries for this lot using the natural method to enhance sweetness and fruit character whilst using little to no water.
Mió is a forward thinking and technology-driven coffee farm in Monte Santo de Minas which now spans a total of 1,589 hectares. A third of the land is used for coffee processing and milling facilities along with some pasture areas and plantations of Eucaliptos trees which are home to some lovely bees. The remaining land is equally divided between coffee trees and the native forest reserve which helps preserve the natural characteristics of the area. The abundant spring water on the estate supplies many others in their area and one of their responsibilities is to not only maintain the flow but to also improve the water quality.
Mió's state of the art facilities ensure that they can provide an astonishing level of traceability for their entire crop each year. Each stage of the journey, from where the cherries were harvested, which trucks moved them, how and when they were processed, is tracked using satellite imagery. Not only does this technology provide an incredible level of detail but it also helps to improve the farmworkers' quality of life, ensure an abundant harvest and guarantee the highest processing standards for the crop.