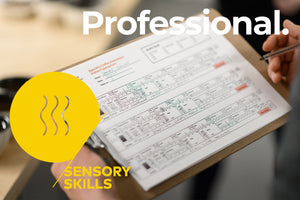 SCA Sensory Skills Professional
The Sensory Skills Professional course builds on the concepts and skills introduced in the Sensory Skills Intermediate course and prepares the learner for managerial job functions in the sensory evaluation of coffee and related products. In this interactive course, learners gain alignment with industry coffee and sensory standards; learn about the implementation of sensory evaluation in a coffee business; acquire the skills required to start identifying and evaluating qualities in specialty green coffee; and demonstrate how to accurately measure and describe coffee beverage characteristics. Participants will learn how to generate repeatable and methodical sensory measurements of coffee, along with interpretation of those results.
A written exam confirms professional course knowledge while a practical exam tests the skills described above based on different working activities carried out during the course.
Participation on this course requires the following modules being completed at least three months prior:
Sensory Skills Intermediate
The following courses are also recommended:
Green Coffee Intermediate
Roasting Intermediate
For further information or advice send a message to: learn@plotroasting.com
Points towards CSP diploma: 25
Course length: 3 days, 9:00-16:00
Class size: 4
Price includes VAT and all SCA fees.