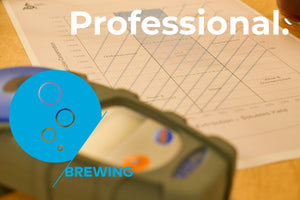 SCA Brewing Professional
The Brewing Professional course builds upon the concepts and skills introduced in the Brewing Intermediate course. Learners take a deeper and more scientific look at the essential elements of good brewing, what happens when brewing parameters are manipulated, and how to master navigation of the coffee brewing control chart. Learners will gain a deeper understanding of water and its impact on brewing, specifically utilizing the ideals of aim, measure, and treatment. The most powerful tools that a professional brewer possesses are an analytical mind and the ability to process and manipulate a multitude of changing variables. These variables help the brewer to understand how best to interpret the information and then offer a solution or opinion that will improve the coffee quality, service, and delivery for their clients.
A written exam tests professional course knowledge while a practical exam tests the skills described above based on different working activities carried out during the course.
Participation on this course requires that the following modules have been completed at least three months prior:
The following courses are also recommended:
Brewing Foundation
Sensory Skills Foundation
For further information or advice send a message to: learn@plotroasting.com
Points towards CSP diploma: 25
Course length: 3 days, 9:00-16:00
Class size: 4
Price includes VAT and all SCA fees.